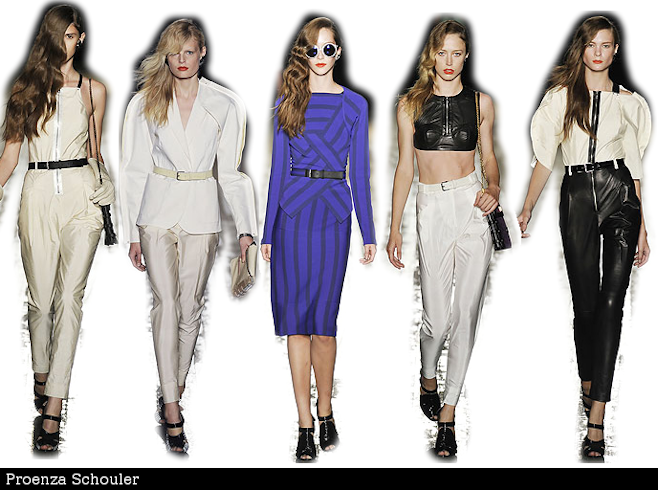 DESIGNER WE LOVE ...
// PROENZA SCHOULER
What's not to love when it comes to fashion's lovable duo behind Proenza Schouler? Mix in a little bit of handsome, meticulous crafting skills and a sweet story to back it up—you've got New York's fashion darlings under the name Jack McCullough and Lazaro Hernandez. The down-to-earth tricenarians intertwined paths in Parsons School of Design in 1999—the moment what was to be the fusion of creative minds that spearhead the New York fashion house Proenza Schouler today.
Armed with internships from Michael Kors and Marc Jacobs--the duo proceeded to work side by side at United Bamboo as complementing counterparts. Jack and Lazaro discovered subsequently that both of them have a strong affinity towards the play of silhouette, colour and proportion. It wasn't until their thesis project that the inevitably catchy name "Proenza Schouler" came about—the result of intermixing their mothers' maiden name into a two-word moniker.
Lithesome models strutted down the runway of Proenza Schouler's Spring/Summer '09 collection with the infamous tossed-to-the-side hairdo, inspired by Jerry Hall's 'do circa the retro era and revived by the current grunge ambassador Alice Dellal. It was the tougher side than the usual classic Proenza image as Daiane Conterato opened the show with a zip-front jumpsuit in the summer shade of beige as structured duds in lily whites followed suit. The duo also sent out cheeky mint hues paired with leather and sheer dresses in multifaceted silhouettes, with awe-worthy sequined jumpsuits at the end to secure ardent desire from the spectators. Proenza Schouler mapped out their Pre-Fall '09 with varied textures over the intrinsic sombre mood of Fall's palette with surprise hues thrown in (think teal, royal blue)—key layering were present in metallic shades of bronze and gunmetal over the classic noir, whilst navy-clad python dresses were reworked with appropriately placed cut-outs and cage-esque lines. Pops of sequined garments in aubergines round up the cool vibe encapsulated in the collection.
Fall/Winter '09 at Proenza Schouler brought the brand back to its roots: structured jackets ruled over the timeless tweed offerings, deftly-crafted bustier dresses in muted tones, slinky dresses knotted at the décolletage and the crowd's favourite of Jack and Lazaro's marriage of violet silk and mesh fabric that Brazilian knock-out Raquel Zimmerman brought absolute justice to. It also helps that the fashion house has branched into the handbag department, launching the coveted-to-the-extremity PS1 series in navy, beige and python. Toted by the nocturnal PYTs and budding fashion icons, it's enough validation that it's here to stay.
Written by Amira N. Amirudin
Late 2009, Sieg Magazine